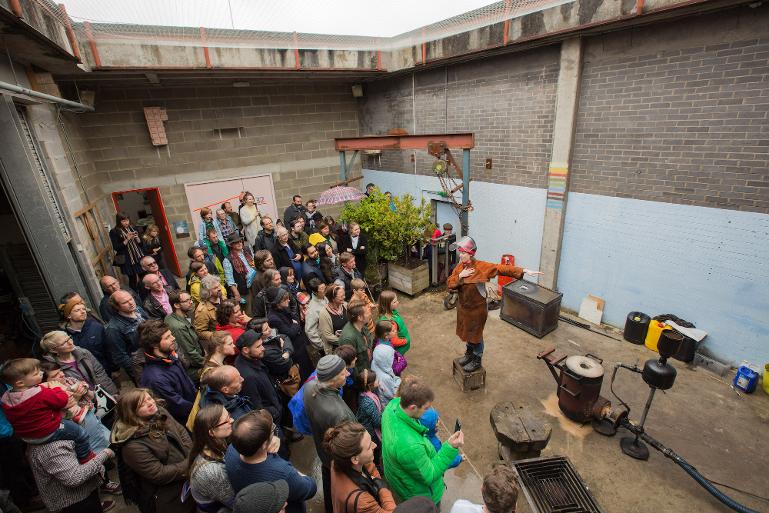 Jo Lathwood, EarthArt fellow at the University of Bristol in 2016, developed work from an on-going project, isitmagma? to explore different processes in order to cast molten rock.
Lathwood makes sculptures and large-scale installations which often respond to particular sites, events, materials or processes. Working with recycled timber, she has built a meandering staircase travelling across three stories to facilitate visitors touching the church roof. Experimenting with foundry technologies, she has developed a way of making homemade lava sculptures and through researching traditional techniques, she has made inks from Oak Galls.
Recurring themes are transitions, journeys, viewpoints and illusions. Her practice is driven by a desire to describe an emotional state through a physical space or object and engage viewers through an associated narrative.
Her portfolio varies greatly in form, scale, context and method of production, encompassing temporary and permanent public art, exhibitions curated for galleries and heritage sites (often as the outcome of an artist residency) and studio-based work.
Past exhibitions and commissions include: Getting There, solo exhibition at Fabrica, Brighton UK (2018); Curious Formations, Trust New Art commission at Biddulph Grange, Stoke on Trent, UK (2017); Isitmagma?, solo exhibition at Earth Gallery, University of Bristol, UK (2016); A Solid Above, dual exhibition with Solveig Settemsdal at Hardwick Gallery, University of Gloucester, UK (2016); Resident Artist at Hestercombe Gallery and Gardens, Somerset, UK (2015); Art, Cities & Landscapes, commission in Amiens, France (2013).Lathwood was co-director of Ore and Ingot, an artist-led fine art bronze foundry in Bristol (2012-19).
Lathwood's studio is based at Spike Island, Bristol, UK.