We are pleased to announce artist Steph Tudor as the new EarthArt Fellow, beginning her fellowship later this year.
Artist Jemma Gunnings exhibition opens on Wednesday 22nd November at 6 o'clock in the Gallery. Tickets for the opening event can be found here
Opening times for the Gallery following the opening are Wednesday afternoon's from 2-5pm or by appointment.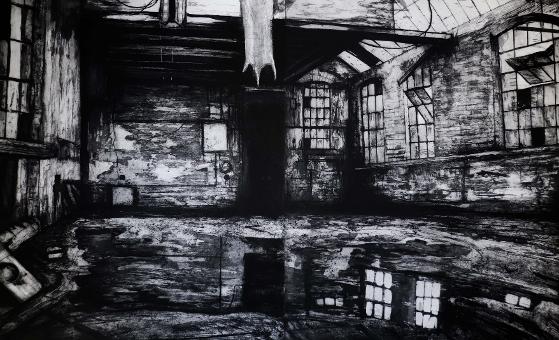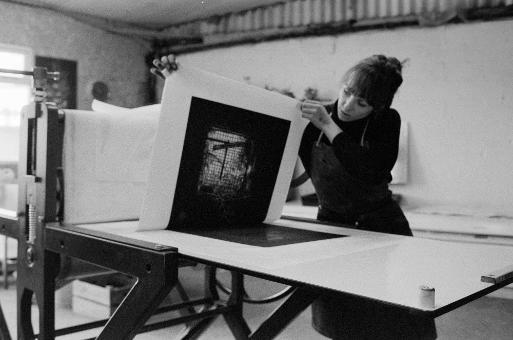 Previous Fellow: Poet Alyson Hallett.
Alyson Hallett is a prize-winning poet who has published more than twelve books of poetry and prose. Collaboration is at the heart of Alyson's work and she has co-authored books with a walking artist, physical geographer and fellow poet, as well as collaborating on projects with dancers, visual artists, geologists, glass makers and composers.

In 2022 Alyson was appointed EarthArt Fellow #8 in the School of Earth Sciences at the University of Bristol where she worked on the project 'Impact: the Ries Nördlingen Crater, Germany' led by volcanologist Professor Alison Rust. The Ries Crater was initially believed to have been made by a volcano, but when tiny diamonds were found in the stones of churches and houses in Nõrdlingen (a town built inside the impact zone) it became clear that it had been made by a meteorite. Alyson's Fellowship in the School has been largely based on conversations with with lecturers, researchers and students. She has explored what impact means on a personal and scientific level; the various natures of meteorites and volcanoes and how mistakes can open up new ways of thinking.
Alyson has waltzed to the stars and back during her six-month Fellowship. Her understanding of what life is, was and can be, transformed. It has expanded, become more complex, more exciting, more baffling, more known and unknown. New registers of language collided with familiar ones and interfused.
Ensconced in Sir Steve Spark's old office, Alyson read books and wrote, dreamed and sketched and made experimental duets with rocks. The room itself became a collaborator, an oasis that pulsed with decades of scholarship, internationalism, enquiry and community. Her exhibition offers a glimpse into Alyson's working processes and some of the poems and texts she has written.
More about poet Alyson Hallett: www.thestonelibrary.com , www.alysonhallett.com
More about volcanologist Alison Rust: https://www.bristol.ac.uk/people/person/Alison-Rust-c9232e7c-c5e8-49d6-872d-8484f34093e7/
More about Simon Lock: https://www.bristol.ac.uk/people/person/Simon-Lock-9fc527c3-d0d2-4e5e-aa4f-d6a810f5258b/
Previous Show: Dr Stephen Cornford.
Image: iPhone 5 Battery 1100 Degrees C. Dr Stephen Cornford. www.stephencornford.net

Petrified Media:
Stephen Cornford is a media artist whose work with used consumer electronics has earned him an international reputation. Much of his recent work has been made in collaboration with science research facilities, enabling access to specialist imaging techniques and facilities to work with technologies that are impossible to manipulate by hand. For his Earth Art Fellowship, Stephen has been working with volcanologists from the University of Bristol's School of Earth Sciences on the NERC funded Disequilibrium project. He explored the relationship between the rocks which these scientists work with and the technologies they use to image and analyse them: the relationship between minerals and media.
During his Fellowship, Stephen has produced a new video work, To Photograph A Rock, and a body of microscope photographs, three of which are exhibited here. To Photograph A Rock draws comparisons between the earth process studied and emulated in volcanological experiments and the technical processes involved in the manufacture of digital cameras. Assembled from rotating pumice, found footage, screen recordings of scientists working, an x-rayed smartphone camera, and corrupted video files, the work considers the continuous presence of silicon throughout the scientists' experiments, as both earth media – the silicates found in magma – and technical media – the cameras and computers used in their analysis.
For the Projected Landscapes, Stephen appropriated the experimental processes of petrology to analyse the chemical composition of an iPhone. These photographic works explore a speculative future of contemporary electronic waste as it becomes petrified into the stratigraphic record of the planet. A recently obsolete iPhone5 was sliced into cross-sections, each of which was heated to a different temperature. The resulting samples were then ground, polished, photographed and analysed using a scanning electron microscope to locate some of the metals found in the phone's components, applying a geological methodology to a hypothetical technofossil of a projected future.

Live recording of the launch event talk by Stephen Cornford and Heidy Mader:
New Publications:
Earth Art has been working with curator Georgia Hall on the publication of journals for each artist fellowship, the first ones are available to view.
Artist Emma Stibbon and Professor Katharine Cashman: A journal documenting the 7-year collaboration between artist Emma Stibbon and volcanologist Professor Katharine Cashman. The journal shares an interview highlighting their interdisciplinary research and how this has built collaborative engagement programmes of research trips, exhibitions and events.
Artist Olivia Jones and Dr Matthew Watson: A journal documenting Olivia Jones' six-month fellowship at the University of Bristol. Alongside images of Jones' new work, it features writing about her exhibited artwork and an interview with scientist Dr Matthew Watson who shared his research with Jones throughout her fellowship.
EarthArt is a series of collaborations between contemporary artists and scientists from the School of Earth Sciences at the University of Bristol. Each collaboration consists of a six-month artist Fellowship followed by a six-month exhibition in the unique EarthArt Gallery. EarthArt has been running continuously since 2015.
"Earth Sciences encompasses not just rocks and fossils, but increasingly climate change, oceanography, natural hazards, evolution and extraterrestrial life. There is a lot of materials for artists to explore and we thought this was a great chance to bring artists into the School to meet with scientists and the wider academic community through a six-month duration Fellowship." Professor Jon Blundy, EarthArt Co-Founder.
"The idea of developing the Fellowship and Gallery was to address two things: firstly to deepen the dialogue and investigation between Artists and Earth scientists, generating new ways of visualising research; and secondly to create a Gallery to share this work with a wider public." Rodney Harris, Artist, EarthArt Co-Founder.